Since we moved to Connecticut, I've been on a mission to check out all the local beaches before they start charging seasonal parking fees... I'm hoping to find a great one for my family to purchase a season pass at! My first stop was Compo beach in Westport, since that was the first beach we saw on our Connecticut house hunting trip.
Compo beach is SO cute and I had a blast exploring it with Autumn. I was sold pretty quickly on this one because it has a nice mixture of sand, rocks and shells, a great concession area, giant playground and paths that look lovely to run on! I think I'll definitely be returning to this beach with my family this summer! Autumn really enjoyed this beach as well and we both agreed it reminded us of Ponyo... she was even asking me, "Where is Ponyo? Is she out there?"
The next beach we visited was Pear Tree Point in Darien. I originally was trying to visit Weed beach in Darien, but apparently their beach season has already started and they directed me to this beach instead. I think there was some confusion on if I could buy a day pass or not since I'm not a Darien resident... they told me I'd need to visit town hall for more information if I'd like to access Weed Beach. So much weird beach stuff to figure out for this Florida girl!
Strange rules aside, I was really glad they recommended another beach down the street for us to see so the drive wasn't wasted! Pear Tree Point was small, very rocky and had extremely calm water. Autumn didn't enjoy this beach as much as Compo (she kept asking to go back to the "big" beach) but did play a bit by collecting rocks and building a sand castle. This would be a lovely beach to ride a bike to and have a glass of wine at if you lived in the area!
I'm starting to run out of time for all my beach visits, so today we visited two more despite the fact that it was raining. First stop was Bayley Beach in Rowayton. This beach seemed like it would be fun for kids (when it isn't raining!) but it was a little too far away and rocky for what I was looking for... Plus, my cell phone barely worked out there and I almost got lost due to lack of GPS! So it's not high on my list of places to return to.
Our next stop was Sherwood Forest State Park... I have seen mixed reviews about this beach online so I wasn't sure what to expect - but I really liked it! It actually had waves and reminded me a little of Florida style public beaches. And it's free!! So I'll definitely be coming back to this beach with Autumn and Chris at some point.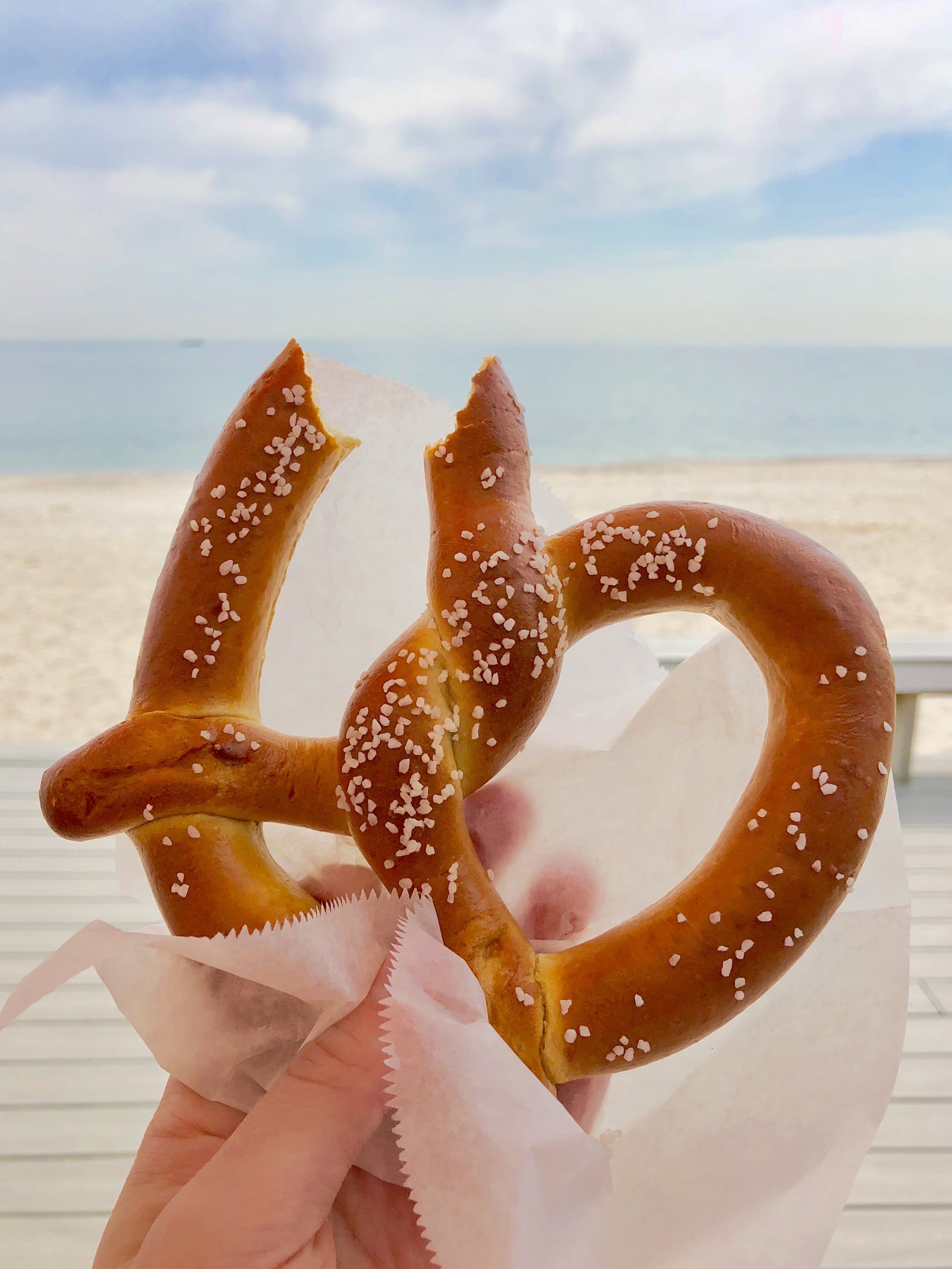 I have 4 more beaches I hope to check out before May 1st... Penfield Beach and Jennings Beach in Fairfield, West Beach in Stanford and I'm still hoping to see Weed Beach in Darien at some point! I wonder which beach will be the favorite for our family's summer adventures?
Stay tuned as the great beach search continues!! haha ;)